Ocean classrooms are one of the most peaceful themes, I think! I love seeing all the greens and blues in a classroom. There's just something so special about an ocean-themed classroom that kids will really enjoy. Additionally, it's quite easy to pull off this theme with easily obtainable craft supplies. Here's how to create an ocean classroom in a few simple steps!
While shopping, keep an eye out for these items…
blue and green organizers
blue and green fabrics
fake seaweed
seashells
netting or rope
DECOR IDEAS
Easy Pom Pom Turtle
(Link: Surfin to Success)
I have had this little turtle pinned for years. It was one of the first classroom decor pins I ever pinned to my board! This teacher blogger took a green pom pom and added a construction paper face and arms to create a turtle. Turtle pom pom's are cute to do throughout the room for decor or even classroom management.
Aquatic Themed Reading Tracker
(Link: Ks Classroom Creations)
I love this reading tracker. It's a bulletin board that this blogger created that helps to track different books in the classroom. You could fill your bulletin board with anything you wanted, but I specifically loved the set-up of the blue background, blue border, construction paper coral, and the netting/fake fish! It's adorable.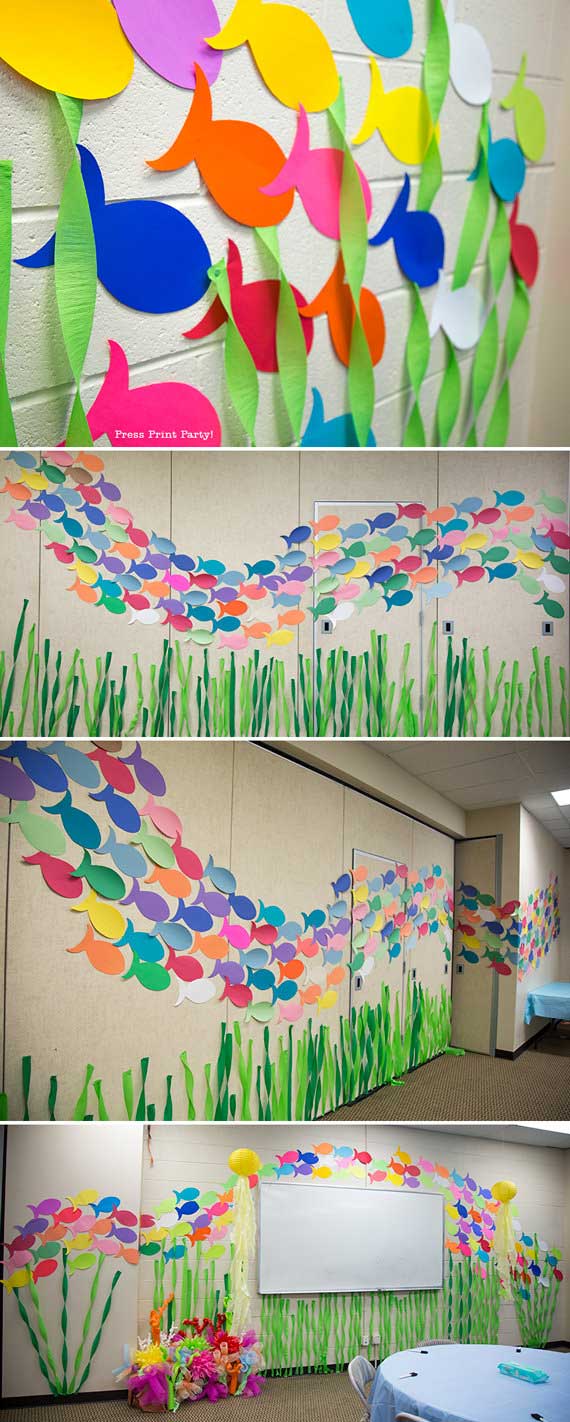 Fabulously Fishy Wall Decor
(Link: Press Print Party)
The four images can take up an entire wall in a classroom and could be surprisingly easy to do if you have a die-cut machine. Or if you have children, you can hire them to do it, too. 😉 This teacher blogger used different colored paper to cut out the fish, then grabbed different colored green streamers and twirled it to the wall below to look like seaweed. Your underwater scene can take up the entire wall space, or you can choose to do just a corner of your wall.
Splashy Table Labels
(Link: Table Labels) (Link: Amazon Pom Poms)
I love the idea of labeling your table clusters with pom poms. These Amazon pom poms are an affiliate link that I've posted. What you'll do is hang the pom pom from the ceiling, then hang a string to connect to the table label underneath it. That way, over the top of each table or desk cluster, you have a pom pom that tells kids which table they are seated. You can use this for table rewards, class management, or simple decor.
Underwater Window Treatment
(Left Link: The Charming Classroom) (Right Link: Unlinked source)
If you're allowed, I love the idea of softening the light in your classroom. Some teachers may not be allowed to do this, so make sure to ask your principal first. What these teacher bloggers have done is taken a thin blue sheet or fabric and put it over the light or window in the classroom. It presents the illusion of being underwater. This is perfect for an ocean classroom theme!
Tidal Streamers
(Link: The Charming Classroom)
Here's another idea to help transform your classroom into the perfect underwater theme. Different colored blue streamers were hung vertically in the windows. When the sunlight comes through, it casts a blue tint into the classroom and truly gives the students a feeling of being in the ocean.
Deep-Sea Decorations
(Link: Amazon Decor Set)
Here's a collection of decor items that you can use to match the color scheme and make an ocean classroom in a few simple steps!
Classroom Tools & Supplies
Fantastic Fish Tubs
(Link: Amazon Storage Bucket)
I'm loving this fish tub. You can use it for storage in the classroom. One use that comes to mind for these would be reading buddies storage or a place to organize stuffed animals that live in your classroom library. You could also store extra school supplies in these, too! There are many uses for them, but they definitely belong in an ocean-themed classroom.
Colorful Book Bins
(Link: Amazon Baskets) (Link: Ocean Themed Classroom Set)
Book bins! I love the idea of having blue and green alternating book bins. You could cut out and laminate book bin labels from my TPT pack to put onto each of the book bins which would create a very organized classroom library.
Friendly Fish Reading Buddies
(Link: Amazon Reading Buddies)
Reading buddies are a fantastic tool for an elementary classroom. They can live in the classroom library to be read to, or you can use them as you'd like for rewards and behavior management.
Decor Bundle Link
Easy Ocean Themed Classroom Set
(Link: Ocean Themed Classroom Set)
All the decor items in this pack are to be used to decorate your classroom with an ocean theme! Each piece is blue or green with ocean animals to match. Over half of the pieces in this bundle are editable. The pieces that require personalization, such as name tags and labels are editable. These pieces come with non-editable PDF that you can write on with a Sharpie OR an editable PowerPoint that you can type your personal names, rules, etc. into.
Decor Pieces Included: 
ABC Line, Behavior Chart (Editable), Binder Covers- Monthly, Binder Covers- Other, Binder Covers (Editable), Birthday Chart (Editable), Book Bin Labels (Editable), Bucket Fillers (Editable), Bunting (Editable), Calendar Set, Check-in Chart (Editable), Clock Numbers, Hall Passes (Editable), Job Chart (Editable), Labels (Editable), Name tags (Editable), Number Signs, Rules (Editable), Shapes Posters, Table Signs (Editable), Where are We? (Editable), and Word Wall Letters
I hope you've found creating an ocean classroom in a few simple steps to be inspiring and helpful. Be sure to subscribe to my newsletter if you haven't already for valuable guides and projects year-round.