Monsters are an awesome decoration theme for the classroom. The monsters you'll be creating with my tips in this post will shine monsters in a cute light, not scary like many kiddos may associate them with. Using bright colors and charming images, you can transform your class into a perfect monster-themed classroom in just a few steps.
While shopping, keep an eye out for these items…
brightly colored organization
furry items
elements with googly eyes
DECOR IDEAS
Amy Groesbeck's Monster-Theme Classroom
(Link: Amy Groesbeck via Reagan Tunstall)
If you haven't seen Amy Groesbeck's Monster-Theme Classroom, do yourself a favor and go check it out! She has created a monster class full of fun and creativity! A monster border with an adorable monster pom could make the perfect bulletin board outside your room! The saying in the speech bubble could be easily changed out throughout the year, too!
(Link: Broken link. If you know the original poster, please comment below.)
A themed door is a must! Your monster door could be made out of butcher paper and card stock. You just need some eyes, a mouth, and stripes or spots! If you can't find large googly eyes, white and black paper circles will do, too.
DIY & Crafts Drawers and File Cabinet Monsters
(Link: DIY & Crafts)
I love this idea from DIY & Crafts. You can dress up your plastic drawers and file cabinets by adding monster eyes! Paint the drawers or cover them with contact paper. Here, you will be able to store student files, teacher materials, lesson copies, and more!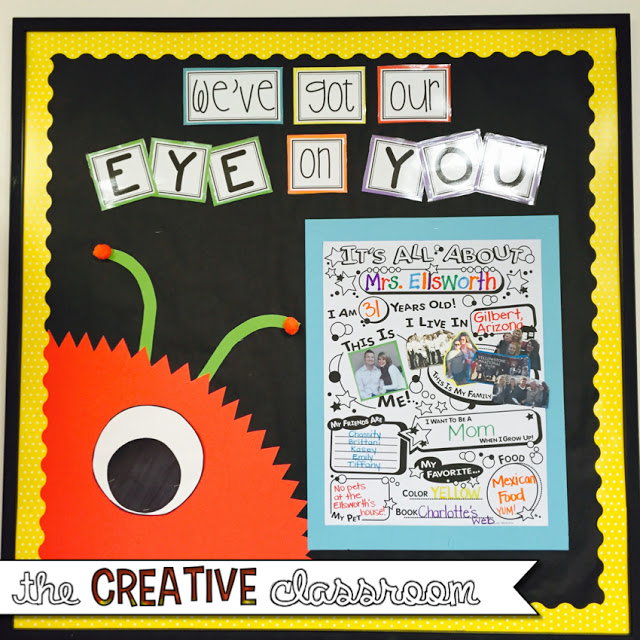 Student of the Week Spooky Spotlight
(Link: The Creative Classroom)
Many teachers do a "Student of the Week" type activity that allows you and your class to get to know each other. This bulletin board is a perfect spot for displaying an "All About Me" poster or craftivity, tying into the monster theme. Using a black butcher paper background makes the poster and red monster pop!
Moster Classroom Bundle
(Link: TPT Decor Set)
Here is a link to my classroom decor bundle. Within this bundle, there are over 20 monster-themed pieces to use in the classroom. These range from journal labels, rules, name tags, check-in chart, bucket filling bulletin board set, book bin labels, and more! They're all red and green colors, plus cute apple graphics on each item.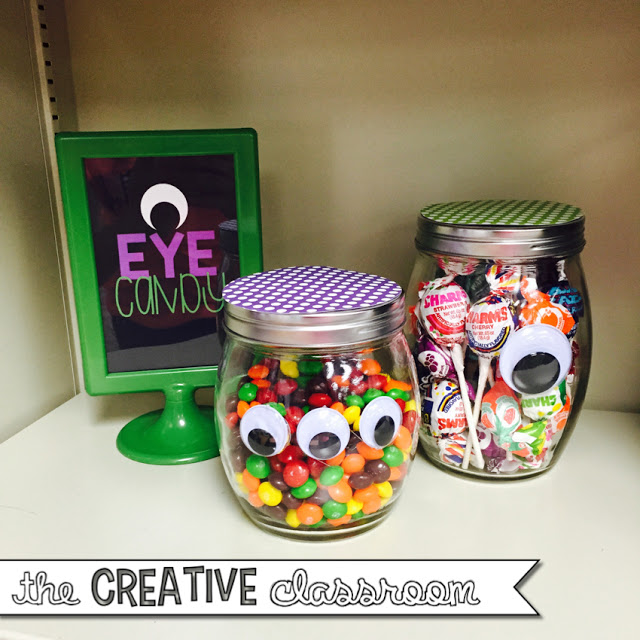 Monster-themed Desk Display
(Link: The Creative Classroom)
Add some google eyes to your treat jars for an insta-monster! These adorable "Eye Candy" jars by the Creative Classroom would be cute & functional as a display on your desk. Candy and treats are simple and inexpensive rewards, either for behavior management or motivational tools!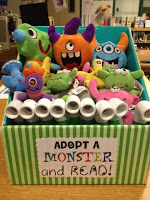 Beastly Organizer
(Link: Lessons by Sandy)
I love the idea of keeping your reading buddies and whisper phones together in one place. This cute box is from Lessons by Sandy. Students can grab a buddy and a whisper phone quickly and find a spot in the room to read. Reading with a whisper phone is excellent practice for fluency and accuracy!
Adorable Bogeyman Bulletin Board
(Link: Broken link. If you know the original poster, please comment below.)
Use a piece of fabric or a flat sheet to make an extra bulletin board. Add a border and a monster sticking out from the edge. Here, you can display student work, changing it throughout the year.
MONSTER ORGANIZATION AND ITEMS
(Link: Amazon Reading Buddies)
Here is a link to some inexpensive reading buddies! Grab a few or get enough for each student to have their own buddy!
(Link: Amazon Paper Decor)
These poms make great monsters! Add an eye and some antenna or hands to the paper pom to create your own hanging monsters. The tassels and circle garland can be used as decor, as well!
(Link: Amazon Green Monster Basket) (Link: Amazon Blue Monster Basket)
Storage cubes are a perfect place for books, teacher manuals, school supplies, and more! These will upgrade your storage from simple to simply adorable!
(Link: Amazon Rug)
Adding a monster rug to your reading corner or library can dress it up and make it more comfortable for your students. Imagine grabbing a reading buddy and picking a spot on this carpet to read a good book!
(Link: Amazon Peel and Stick Wall Decor)
Check out these pre-made monsters ready for you to peel and stick! These could be used anywhere in your room because they are easy to remove and reuse.
Decor Bundle Link
(Link: TPT Decor Set)
All the decor items in this pack are to be used to decorate your classroom in a monster-themed room! Each piece is brightly colored with matching monsters. Over half of the pieces in this bundle are editable. The pieces that require personalization, such as name tags and labels, are editable. These pieces come with a non-editable PDF that you can simply write on with a Sharpie OR an editable PowerPoint that you can type your personal names, rules, etc. into.
Decor Pieces Included: 
ABC Line, Behavior Chart (Editable), Binder Covers- Monthly, Binder Covers- Other, Binder Covers (Editable), Birthday Chart (Editable), Book Bin Labels (Editable), Bucket Fillers (Editable), Bunting (Editable), Calendar Set, Check-in Chart (Editable), Clock Numbers, Hall Passes (Editable), Job Chart (Editable), Labels (Editable), Nametags (Editable), Number Signs, Rules (Editable), Shapes Posters, Table Signs (Editable), Where are We? (Editable), and Word Wall Letters